Blake and Paul, the young guns, got their first muscle ups today... Congrats guys!!! Notice any family resemblance? 
Kunal rockin' the shades for the snatches today. Gotta look good while olympic lifting!
Workout for Tomorrow:
Front Squat your body weight 50 times in as few sets as possible
Benchmark Wednesday's

"Jackie"
For time:
Row 1,000 meters
Thruster 45 pounds 50 reps
 30 Pull-up
Jason's take on the Hook grip...
Regular Grip:
 
Hook Grip
Why the Hook Grip????
Start With The Thumb — and pointer finger "hook" part of your hand by gripping the bar.
Tighten the thumb down – around the bar.
Wrap Your fingers — starting with the pointer finger down around the bar, covering your thumb with as many fingers as possible.
Squeeze – to get max strength/tension and strengthen the grip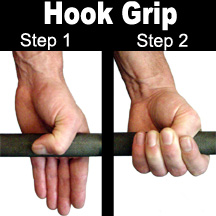 The Hook Grip is good because:
It allows you to have an awesome grip on Snatches and Cleans without "death gripping the bar." Death gripping often times will lead to an athlete pulling with their arms due to the increased tension and not using there hips as effectively. With a hook grip it is almost impossible to death grip the bar, your grip is secure but relaxed.
It will also allow your grip to not burn out as bad while doing high rep lifting that is extremely grip intensive. Since the "hook" gives you added holding power, your grip is less taxed. 
The hook grip is uncomfortable at first. I hated it for years! Give it a legitimate shot for 2 weeks and you will never go back. You will begin to PR your Olympic lifts and realize just how valuable it is. 
If I didn't sell you on the hook grip this will.
I was having lunch with an Olympic weight lifter who went to the Beijing Olympics about a year ago. I asked him about the hook grip and if he preferred it (at the time I was anti hook grip). His response sold me forever.
"Jason, in the Olympics you have athletes from all over the World. Every team lifts slightly different in terms of technique. The one thing that every single lifter does do however is the hook grip."
I was sold right there.....it must work was the answer I had.